2018 – 2019 REVIEW
Long-term care academic detailing service
"I would love to see the academic detailing service continue in long-term care homes. It provides an excellent educational resource which can be flexible to meet the needs and practices of particular facilities."
The CEP offered its long-term care academic detailing service to support appropriate prescribing in 41 long-term care homes from September 2015 to March 2017. Two clinical topics were offered to participating long-term care homes over this period. The first clinical topic focused on appropriate prescribing of antipsychotics for residents with behavioural and psychological symptoms of dementia, and the second topic focused on drug therapy decision-making related falls prevention.
Funding was provided by the Province of Ontario through its Appropriate Prescribing Demonstration Project.
Our long-term care academic detailing service was part of the Appropriate Prescribing Demonstration Project.
The Appropriate Prescribing Demonstration Project was delivered on a provision of the 2012 Ontario Physicians Services Agreement to improve prescribing through voluntary, quality-based educational strategies that respected the confidentiality of provider practice data. This initiative evaluated the benefits of providing an array of educational supports related to appropriate prescribing in long-term care (LTC) homes. Educational supports included:

• Focused visits between an academic detailer and provider. This service involved medication education that provided objective, balanced, evidence-informed drug information on best prescribing practices to address issues arising in each recipient's own setting. Tools and supports to inter-professional teams in LTC homes and residents and their families. academic detailing and staff/resident supports were developed and delivered by the Centre for Effective Practice.
• Personalized Practice Reports that provided providers with clinical quality indicators related to their prescribing practices. These reports were developed by Health Quality Ontario and are be confidential to providers.
As part of the demonstration project, 41 LTC homes were offered the combination of Personalized Practice Reports (offered by HQO) and academic detailing service (offered by CEP). All interested providers (beyond the selected 41 sites) were also offered access to Personalized Practice Reports and all interested LTC homes had access to educational materials developed.
Participating sites began receiving the intervention in September of 2015, and sites were supported from 2015-2017.
For more information on the Appropriate Prescribing Demonstration Project, please contact appropriateprescribing@ontario.ca.


Throughout the academic detailing service duration, CEP engaged over 770 long-term care providers and staff from the participating 41 long-term care homes. Overall, participating long-term care providers and staff overwhelmingly reported a high level of satisfaction with the academic detailing service. The service encouraged providers to appropriately prescribe antipsychotics and review medication to prevent falls, increased provider confidence to incorporate best practices, and increased team communication.
The CEP feels that academic detailing as an intervention has the potential to enhance patient/resident care and outcomes in the Ontario health care sector.
What is an academic detailing service?
Academic detailing, sometimes referred to as educational outreach, offers one on one visits with providers to discuss different clinical topic areas. Our academic detailing service entails service-oriented one-on-one visits focused on delivering providers with objective, balanced, evidence-informed information on best practices to optimize clinical care. This information is always tailored to each provider's expressed needs and is delivered at a time that is convenient for each of them.
Providers need an accurate, ongoing source of current data about the comparative effectiveness, safety and costs of treatments. This information can be time consuming to assemble from a continuous influx of research literature. By combining an interactive outreach approach with best evidence and experience, our academic detailers can meet the individual needs of providers and their teams. Academic detailing programs continue to demonstrate positive impact on outcomes including appropriate prescribing, quality care, provider knowledge and provider satisfaction.
There are provincial programs running in British Columbia, Saskatchewan and Nova Scotia with past programs in both Alberta and Manitoba. Australia has a National Prescribing Service that includes 150 detailers working to support primary care providers. Programs are also running in over five US states.
The Centre for Effective Practice (CEP) has led Ontario academic detailing pilot projects in 2007-2008 to support type II diabetes management in primary care, and in 2015-2017 to support appropriate prescribing in long-term care. The CEP is currently running an Ontario wide academic detailing service in primary care.
What happens during a visit?
An academic detailing visit is about understanding a provider's needs at the time of the visit, the aspects of the clinical topic area that are most important to them, and any questions they have on recent evidence, resources and tools available to them. It is then the academic detailer's role to tailor each visit, specifically the information delivered during the visit, to the participating provider's expressed needs.
Publications and presentations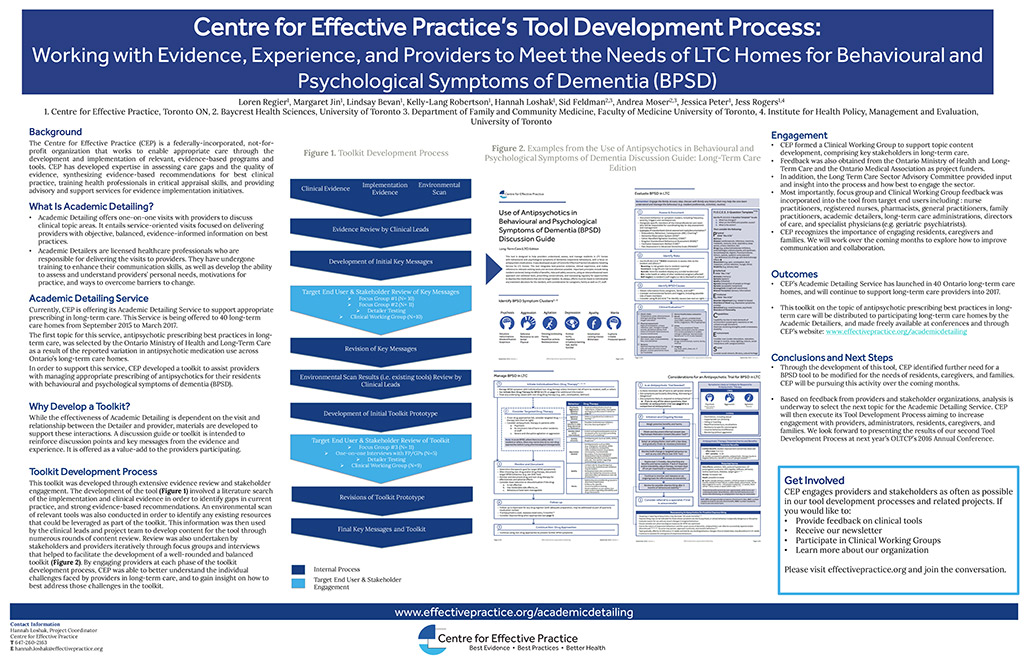 CEP Tool Development Process: Working with Evidence, Experience, and Providers to Meet the Needs of LTC Homes for Behavioural and Psychological Symptoms of Dementia (BPSD)
Presented at Ontario Long-Term Care Association Conference. Toronto, ON. 23-25 Oct 2015.