Musings from the CEP board
"For the past decade, the Centre for Effective Practice has sat on the precipice of the health system, constantly reinventing its services to meet the ever-changing needs of the primary care providers. As the health system undergoes massive change, we as an organization are excited by this opportunity to once again redesign and rethink how we can do better, collaborate smarter and work more efficiently. This is par for the course in small non-profit, entrepreneurial organizations. It's impossible to be in the business of change management without being able to embrace change as an organization or a leader."

—TUPPER BEAN, EXECUTIVE DIRECTOR
See page 4 on the Yearbook for more.

Bernita Drenth on partnerships
"Strong partnerships are built on shared values and trust. Inherent in the term is the sense that both or all parties are equal and bring substantive value to the relationship regardless of size or budget. In practice, this means co-planning and working together to set the direction. All too often, these are sound ideas in theory but fail in practice. Smaller organizations in the past, such as the CEP, have partnered for various reasons including out of necessity. However, today it has given them the advantage because they have the capacity and capability to know how to partner effectively. As we forge ahead, strategic partnerships must put patient outcomes and system sustainability first."
—BERNITA DRENTH, BOARD CHAIR
See page 5 on the Yearbook for more.
TOTAL TOOL DOWNLOADS SINCE 2017

TOOLS, RESOURCES & PROGRAMS DEVELOPED TO DATE

TOTAL STAKEHOLDER ORGANIZATIONS ENGAGED

TOTAL GUIDELINE REVIEWS CONDUCTED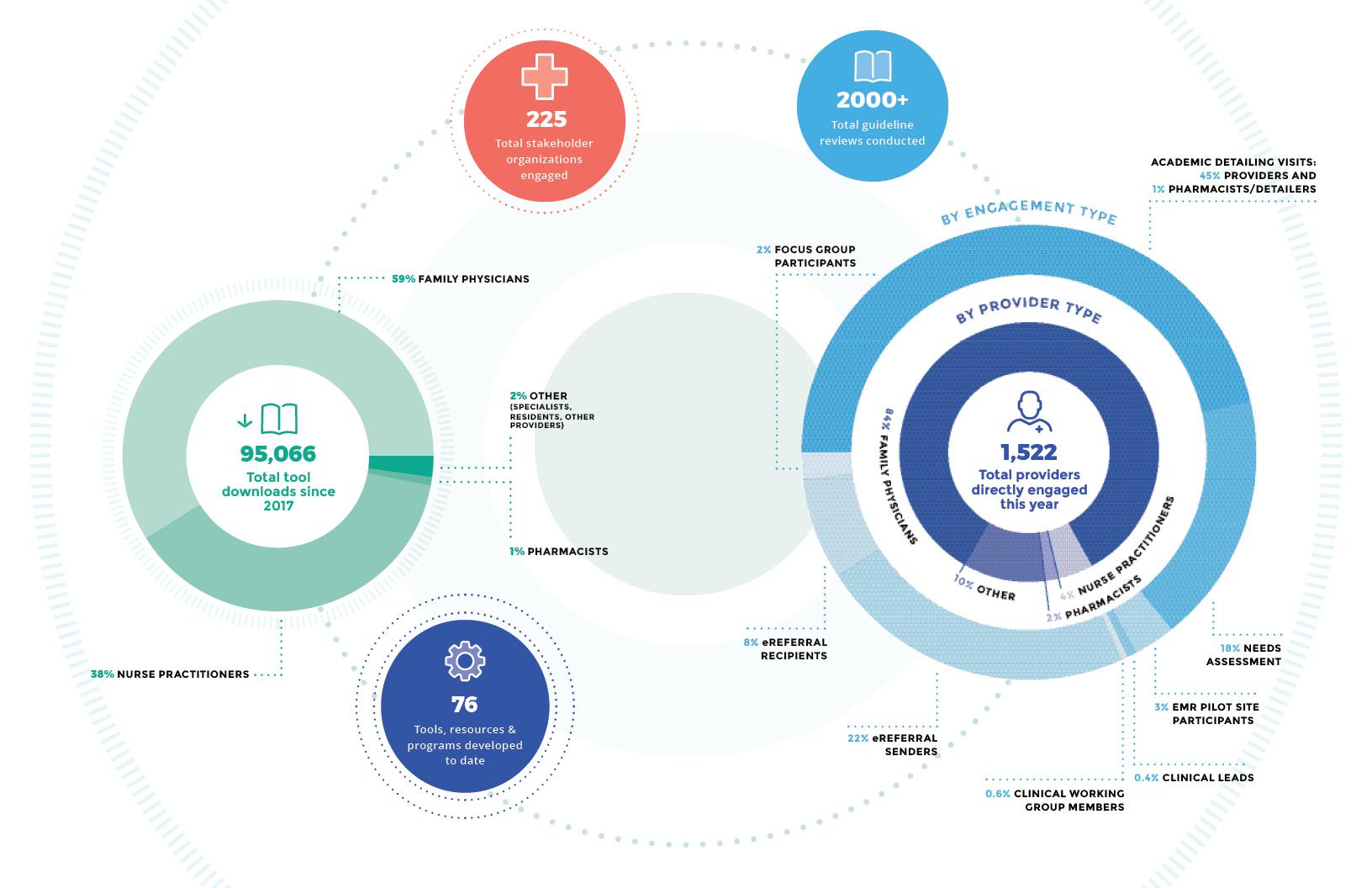 Knowledge translation in primary care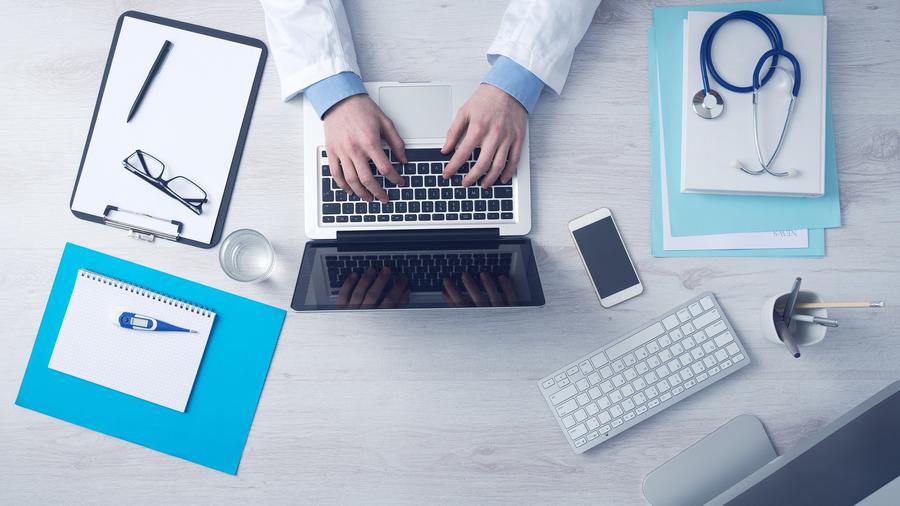 As the largest knowledge translation for primary care organization in Canada, we continue to partner with the Ontario College of Family Physicians (OCFP) and the Nurse Practitioners' Association of Ontario (NPAO) to meet the needs of primary care providers on the frontlines. Through the Knowledge Translation in Primary Care Initative (KTinPC), we have developed and disseminated 13 tools that have received more than 70,000 (of the 95,066 total) downloads by providers over the past two years.
The KTinPC initiative focuses on the development of clinical tools and resources for Ontario's primary care providers (PCPs) and explores opportunities to support PCPs with electronic medical record (EMR) optimization and the localization of tools. Innovation for providers' preferences is a key focus of this initiative: we are working with 15 clinic sites in various parts of Ontario (family health teams and solo practices) to pilot test custom EMR tools, including the Chronic Non-Cancer Pain Tool, Preconception Health Care Tool and CORE Back Tool.
See page 10 on the Yearbook for more details.
Academic detailing for primary care
Our academic detailers have been visiting family physicians on the topics of managing opioid therapy, caring for patients living with chronic non-cancer pain and caring for patients living with opioid use disorder. In July, the topic of caring for older adults on benzodiazepines will become available to all participating family physicians.
This past year, we have offered visits to more than 700 family physicians across the province including those in rural and northern communities.
See page 12 on the Yearbook for more details.
Through the Clinically Speaking podcast, we have had conversations about evidence-based medical practices with experts across Canada, hearing varied perspectives. Below are key quotes from these experts. Their views speak about where medicine has been, where it is now and where it could be in the future.
To listen to the full interviews, visit cep.health/clinically-speaking.
See page 16 on the Yearbook for more details.
"Why don't we spend more time doing the actual shared decision making with our patients — listening to their stories, listening to their concerns and addressing those? Rather than: 'I've got to get through this huge checklist of preventative care maneuvers and this periodic health exam today. I've got to squeeze it into your complaint about your ankle today, so I'd like to skim along and talk about the PSA - which is going to take 10 minutes.'"
"I think at some point in the process of training people to do critical appraisal, we realized it's extraordinarily time consuming and extremely difficult. There's a ton of nuance that is hard to capture. When is a clinician going to review enough clinical articles to answer every question they might have?"
"I think that really motivated some of the clinical practice guidelines as a concept. The idea that somebody is going to filter the information, condense it and put it into a usable format."
"It's very hard to trust any published papers. The degree of bias: the extent is huge…. It is very striking. What's published in the literature is what guides us as clinicians. It's what guides clinical practice guidelines and all such [documents]."
POLICY TO PRACTICE
Pain management and opioids
"I have been using the CORE Back Tool and the CORE Neck tool and Headache Navigator since they were released. It has made me more confident as I deal with these problems, especially decreasing my worry that I am missing something serious. Also, I am ordering fewer imaging tests because of these tools. And I feel that my patients are getting better care."
—DR. JOHN AXLER, FAMILY PHYSICIAN
See page 20 on the Yearbook for more details.
CORE NECK TOOL AND HEADACHE NAVIGATOR

MANAGEMENT OF CHRONIC NON-CANCER PAIN
Pain Management and Opioids

POLICY TO PRACTICE

Mental Health

POLICY TO PRACTICE

Care of the Elderly

POLICY TO PRACTICE

Cancer

POLICY TO PRACTICE

Non-Medical Cannabis

POLICY TO PRACTICE

Women's Health – Preconception and HIV

POLICY TO PRACTICE
College of Family Physicians of Canada
Association of Family Health Teams of Ontario
Continuing Professional Development Ontario
Departments of Family Medicine
Primary Care Local Health Integration Network Primary Care Leads
Ontario Primary Health Care Nurse Practitioner Programs
Ontario Ministry of Health and Long-Term Care
Mental Health and Addictions Branch
Healthy Living Initiatives Unit
Strategic Policy and Planning Division
Partnerships and Consultation Unit
Specialized Models Programs
Ontario Ministry of Children and Youth Services
Ontario College of Family Physicians
Nurse Practitioners' Association of Ontario
College of Physicians and Surgeons of Ontario
Health Quality Ontario
Local Health Integration Networks
Ontario Medical Association
Registered Nurses' Association of Ontario
Primary Health Care Branch
See page 30 on the Yearbook for more details.